Now, open networking is addressing telecommunications service provider requirement for new central office architecture, managed service delivery, monitoring and analytics networks, and Internet Exchanges.

E.C.I. Networks, together with its technology and integration partners such as EdgeCore, delivers the leading open networking solutions which meet the requirement for telecommunication service providers to upgrade its new networks to CORD (Central Office Re-architecture as Datacenter).
Disaggregated Network Packet Brokers
Portfolio of network packet brokers (NPB) operating software (OS) has now been extended to a open switch hardware by abstracting software from the underlying hardware.

NPBs aggregate, filter and load-balance network packet data to seamlessly and efficiently deliver that packet data to security, forensics and performance management tools.
Disaggregated 10G PON OLT
The industry's first whitebox OLT will enable service providers to deploy 10G PON services from Central Office Re-architected as a Datacenter (CORD) infrastructures, which utilize whitebox hardware and open source SDN and NFV soſtware to lower equipment costs, increase service delivery agility, and leverage open technology innovation.
200G packet transponder
the industry's highest capacity and first modular open-source whitebox packet transponder offering a flexible mix of 100 Gigabit Ethernet (GbE) packet switching ports and 100/200 Gbps coherent optical interfaces for data center interconnect and service provider backhaul use cases.

CORD (Central Office Re-architected as Data Center)
High Level Architecture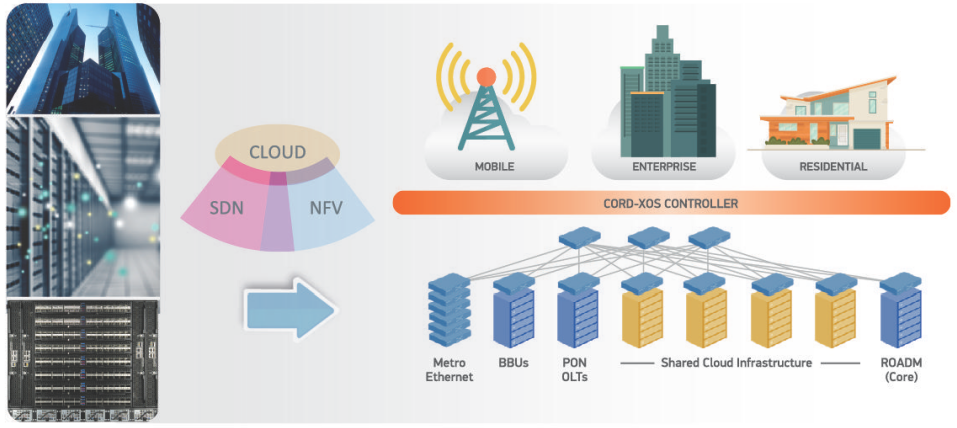 Edgecore Open Networking Products with CORD